Reflecting on our 2017 Federal Contracting Conference
Here are highlights from our 2017 Conference. If you missed last year's conference, click the link to learn more.
​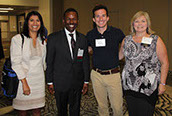 A Message From Andy Harold
Board chairman and co-founder, Andy Harold shares a captivating and informative message on the benefits of becoming a member of the Florida 8(a) Alliance.
Listen in as Mr. Harold presents several questions many small business owners in the federal government market are looking for assistance with. Discover how Florida 8(a) Alliance can help fast track your business to success.
​
The Florida 8(a) Alliance is open to All businesses that are:
HUBZone
SDVOSB
WOSB
And other members of the general public
8(a) Businesses
8(m) Businesses
Small Businesses
Large Businesses
Veteran-Owned
2018 Federal Contracting Conference
It's not just a "CONFERENCE"... It's an "EXPERIENCE"
Last year, we were in the business of making history, "One Conference at a Time". This year, it's all about GROWTH". That's why you don't want to miss our 2018 Conference. Sign up today.