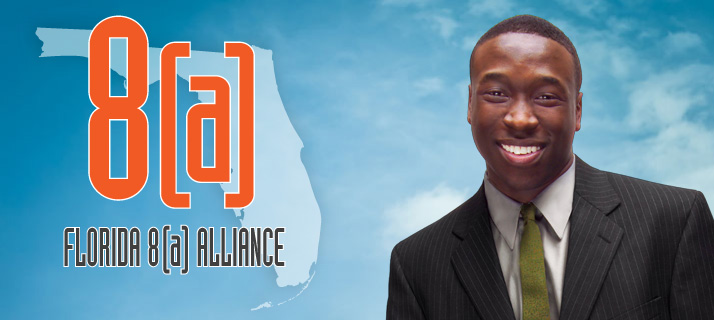 The Internal Revenue Service recognizes the Florida 8(a) Alliance as Section 501 (c) (3) public charity. Gifts to the Florida 8(a) Alliance are tax deductible in the U.S.A. Our Federal Tax ID # is 80-0768802. No goods or services were forwarded or offered in exchange for this contribution.
Florida 8(a) Alliance Sponsors
and Sponsorship Opportunities
The 2017 Sponsorship Opportunities are here! Get ahead of the crowd and become the center of attention at the 2017 Federal Contracting Conference in Orlando. Join the diverse group of businesses who know how to get their companies the right exposure.
To read more on our sponsorship opportunities click the links below. Interested in our Marketing/Exhibitor Sponsorship or Premium Sponsorship, "CLICK HERE" to sign up.
2017 Sponsorship Opportunities
News Items
Florida 8(a) Alliance Board Chairman, Andy Harold awarded Region IV 8(a) Graduate of the Year. Learn more.....
Florida 8(a) Alliance Partners with WIPP to provide educational opportunities for WOSB.
State Grant to Assist Veterans & Other Small Businesses
Florida 8(a) Alliance Partner in new Small Business Program in Jax
Sign up to receive the Free FL8(a) Newsletter and future updates on upcoming events. Add your email address to our mailing list through the link below at:
2017 Florida 8(a) Alliance Sponsors
Thank you to all of our sponsors for your continued support throughout the year. To access each sponsors' respective website, click their logo. The Florida 8(a) Alliance offers a variety of sponsorship options for 2016. To discuss sponsorship questions or register, contact us at (904) 524-5357 or send us a quick email message to: Info@florida8a.org.
Exclusive Breakfast Sponsor
Copyright©2013 Florida 8(a) Alliance